Our Porsche technicians are trained at dedicated Porsche technical centers, where they develop unrivaled expertise in all aspects of maintaining and servicing Porsche vehicles. The training courses are detailed and very demanding - only the best technicians are graduated and then certified. It's worth noting that only technicians from Porsche dealerships can participate in this official Porsche training. And only a Porsche dealer has the complete set of specialized Porsche tools and computerized test equipment needed for the best, most accurate repair and maintenance.
After this dedicated Porsche training, Prestige Imports Porsche's qualified technicians will correctly identify, diagnose and repair any issues associated with your vehicle right away. Our technicians have the experience and tools needed to complete routine maintenance, such as tire rotation, oil change, alignment, new tires, tune-up or preventative maintenance. In addition to this routine maintenance, qualified Porsche technicians are also able to correct any uncommon issues you may have.
Conveniently located at 9201 W. Colfax Ave, Lakewood, CO our service technicians are ready to work for you. Schedule an appointment to bring your vehicle in with our service appointment form, or give us a call.
Why is the Prestige Imports Porsche Call Center Unique?
If after filling out the service appointment form you still have questions regarding your vehicle, please give us a call at 303-238-8101 and you'll find us standing by to answer your questions and get you in as soon as possible. Upon submitting a service request we will:
Respond to you promptly via your preferred method of contact.
Ask any additional questions required to service your vehicle.
Confirm your appointment date and time.
Stay in touch and let you know the status of your order.
Be sure to ask your customer service agent about our Valet Service!
An online Video Owner's Manual is now available! Click here.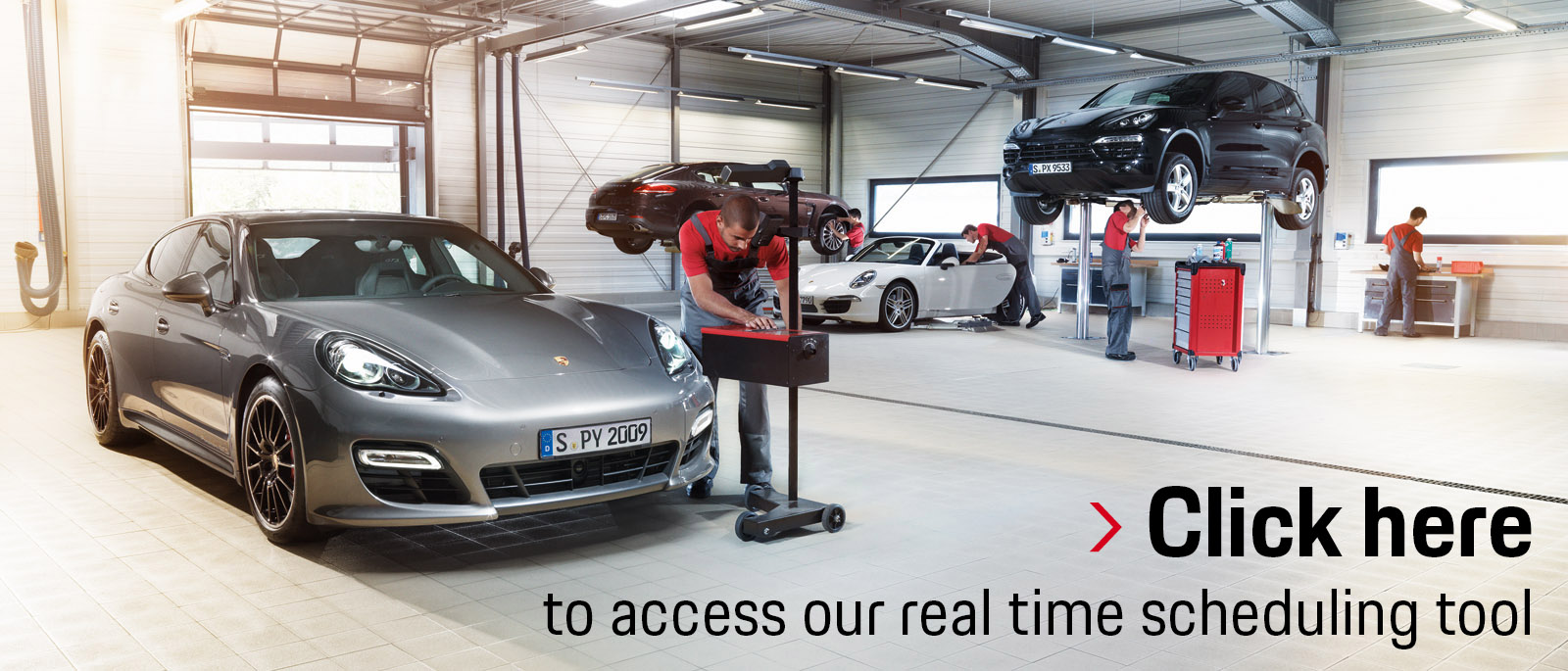 Use genuine Porsche parts—to keep your car perfectly Porsche
Porsche service. Porsche technology.
Genuine Porsche parts.
Not easily substituted.
Apart from yourself, nobody knows your Porsche better than the person who developed it. We have adjusted everything to work together perfectly, so that you can enjoy the Porsche feeling. And so that this feeling lasts for a long time, your Porsche undergoes a thorough examination at the hands of our specialists at every inspection.
In case any part of your Porsche should ever need replacing, we recommend that you exclusively make use of genuine Porsche parts. With certain products, you have the choice between new parts and genuine Porsche parts which have been reworked and approved by Porsche.
These are not merely more economical for you, but also preserve the environment and natural resources, since their overhauling consumes less energy and raw materials than new production. Of course these exchange parts are genuine Porsche parts - complete with a 2-year warranty.
At Prestige Imports Porsche, we have the stock and knowledge to fulfill your auto parts needs. With over $500,000 of high quality Genuine OEM Porsche parts and accessories, we have everything you need from hardware and tires to Drivers Selection and Tequipment. If we don't have the items you are looking for, one of our Certified Porsche Team members will locate it for you.
Porsche Parts and Accessories in the Denver Area
It is particularly important to use approved Porsche parts, especially if it is still under factory warranty. Our customers come from all over the Denver Area, including Boulder, to find the items they need; items like: mufflers, batteries, wheels and more.
Be sure to check out our parts specials on our website and you can even order directly online here. Don't forget to stop by our service department for oil changes, tire rotations, alignment and service.